As representatives of the company told SpecMachinery.com.ua, similar products from South Korea to Ukraine had not previously been delivered, and the installation of an autotower from this brand in our country was carried out for the first time. However, since Tekhkomplekt is the official supplier, and design experience is confirmed by years of work and successful projects - everything was done at the maximum level.
The buyer chose IVECO Eurocargo as the base chassis, since the tonnage must be from 16 tons and above. The project was implemented jointly with a strategic partner, AMACO Corporation (chassis supplier), at the facilities of the Tekhkomplekt plant.
Model Hansin HS3570 has a working lifting height of 35 (!) Meters, and this is the height of a 10-12-storey building. With a horizontal outreach of 19 m, a hydraulic lift is designed for a lifting capacity of up to 400 kg. And the electronic control system automatically determines whether the operator is in a safe working area - reports SpecMachinery.com.ua.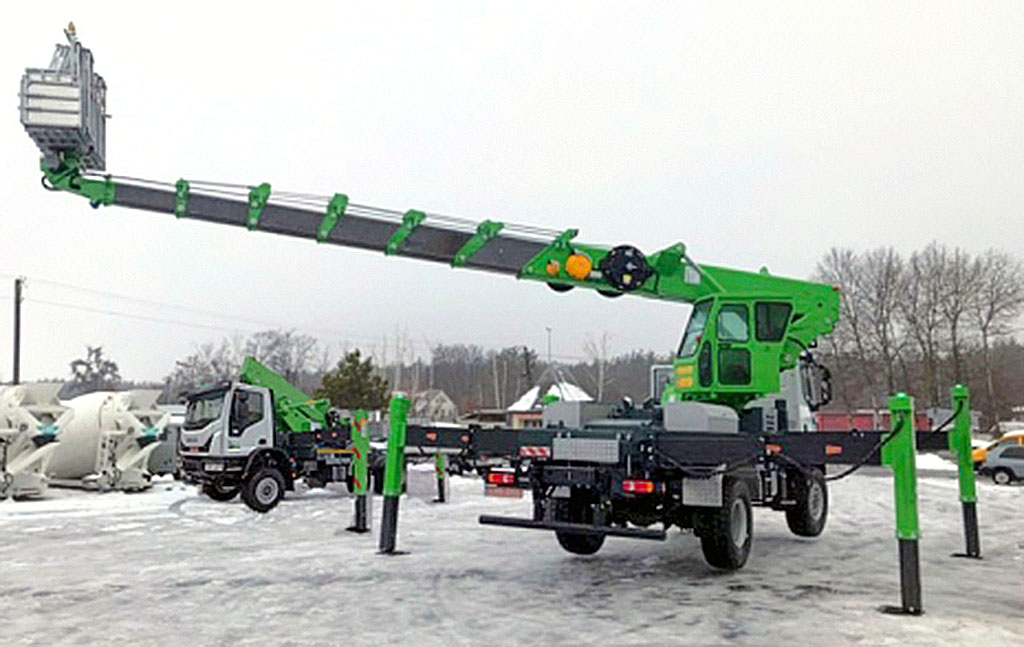 Ground control - located on the column. The rotation of the elevated part is 360 degrees.
And the first two South Korean auto hoist Hansin HS3570 on the truck chassis of the Italian brand IVECO Eurocargo - have already gone to their customers in Rovno.
It should be noted that Hansin autotowers can also be installed on MAZ, KrAZ, IVECO, MAN, etc. chassis, depending on the technical capabilities and customer requirements.
In total, in the portfolio of the plant "Tehkomplekt" for the installation of aerial platforms Hansin - half a dozen models with a maximum working height of 30-45 m and a maximum departure of 18-26 m.
More about the products of the plant "Tehkomplekt" - find out on the official website.